VOICE CARE ADVICE


5 safe recommendations
for your voice
There are 5 things that we at the VOICE CARE CENTRE  recommend that you can do that will cause you no harm, and have beneficial effects on your voice. These recommendations will help to provide a routine of voice care, whether you are struggling with your voice, or whether you feel your voice is in peak condition.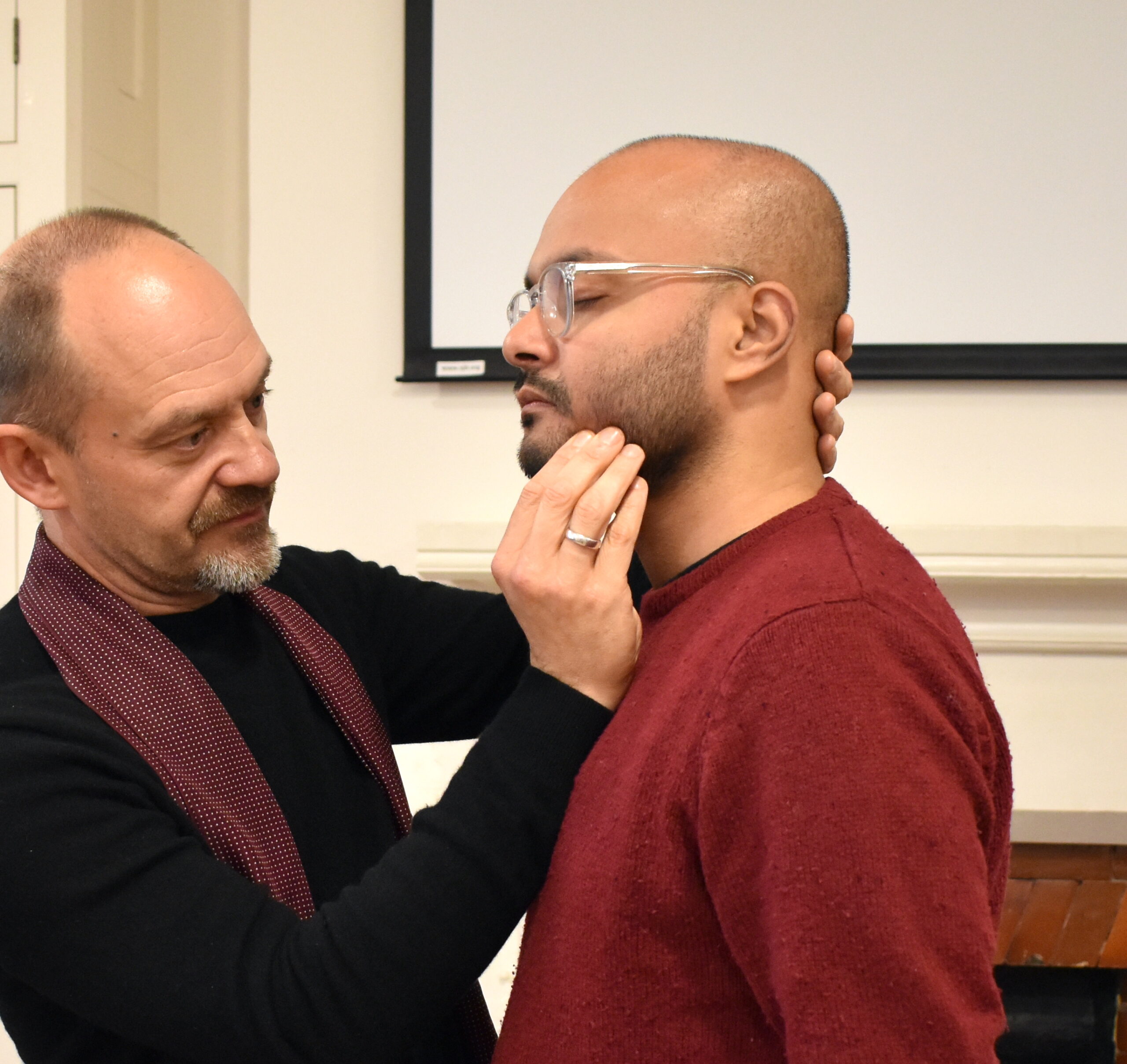 Our book can help with the confusion of a voice problem 
"What's wrong with my voice?"
"Why does my throat hurt?"
"What should I be doing?"
Our voices are a huge part of our identity. Having a problem with your voice can be scary, affecting your work and social life, and even how you feel about yourself.
This book will help you to understand why this can happen, and what recovery could look like.
A first point of call for anyone experiencing vocal dysfunction. Clear, concise and empowering.' — Chris Chung, actor
If you are experiencing hoarseness or dysphonia with your voice for more than 3 weeks, the NHS recommends that you should consider booking in with your GP to assess your condition, and take a further look at what might be going on. This is particularly important if you are, or have been, a smoker.
If you are a singer experiencing a change in timbre or ease, then this could be due to a number of biopsychosocial factors, and rarely a cancer or neurological 'red flag'. A 'red flag' is a biomedical diagnostic term for a symptom of a potentially life threatening condition, which is why it is incredibly important to rule out serious 'red flags' as early as possible in your journey. Our extensive Initial Assessment process is essential for the safety and efficacy of the multidisciplinary plan. In the 30-45 minute Initial Assessment appointment you will be asked about your physical, mental and social health, you will also be undergo systemic health screening questions. 
If any red, or yellow flags arise, you will be immediately referred to either your General Practitioner or our recommended Surgeon.
I'm clear of red flags, what next?
As we are a living, breathing human being we are subject to biological, psychological and sociological interactions with the world. Human beings are complex (not machine -like) and each person we see at the Voice Care Centre is a rich, multi dimensional tapestry of your experiences, biases and knowledge. 
In our philosophy led healthcare, we are not just looking to optimise your dysfunction, we are looking to optimise your life. This is why we put you at the centre of the journey, rather than your dysfunction or disease. This is the patient centred model.
In this video (in partnership with CauseHealth and Vocal Health Education)  Stephen King talks with leading Manual Therapy education Walt Fritz, PT and Medical Philosopher Dr Rani Lill Anjum who has committed her life to exploring causation in medicine.
They explore Complexity in healthcare, and start to look at you as a fully rounded being rather than a set of symptoms and evidence base.
We can have pain for many reasons, and sometimes the cause of the onset of pain is unclear. This seminar aims to provide a framework through which you can help someone who has had the 'all clear' from ENT.
Posture and pain do not correlate, as posture's history with prejudice is clearly defined.
From the 1600's, the philosophy of "posture" (once a construct for that of military use) was championing uniformity, and now is being challenged in all its forms by functional, pain and medical science. Posture's chequered evolution sees a marination of racial, classist and political striations, forming a complex psychosocial 'problem' which acted to segregate "us" from "them". Is it time we acknowledged this?
Stephen King, our founder, has been reviewing the current evidence in the world of pain science both in a philosophical and a biomechanical context now for three years, and we have decanted the information into a 90 minute seminar which is available from our education page.
What are the key takeaways about pain?
Pain is subjective, and that is not to be underestimated
There is a difference between pain and nociception* meaning there can be no such thing as 'good pain'
Managing pain conditions might be as empowering as 'fixing' the pain, but in a totally different way
Pain is a biopsychosocial construct which must take into account the history of how we might perceive pain in others including the narratives of pain socially inherited from our primary carers
Pain is different to suffering
*we cover what nociception is in the seminar
Structural abnormalities do not correlate to pain.
What is the Biopsychosocial model?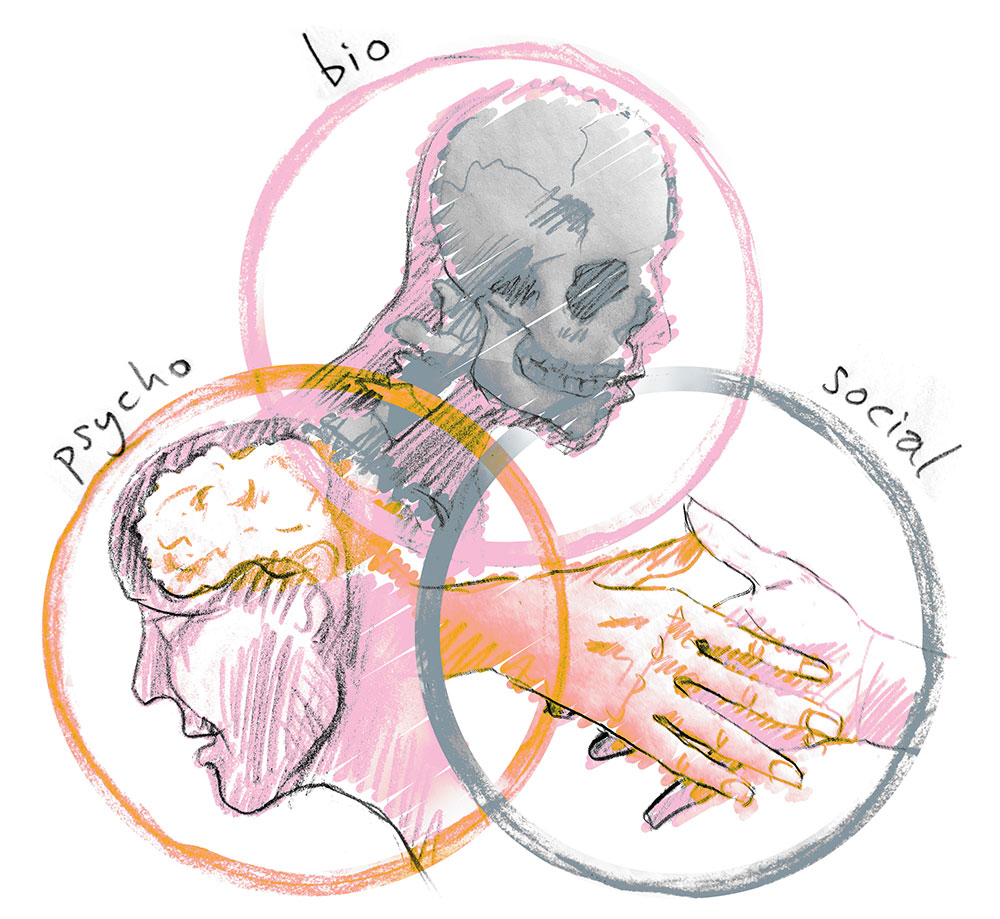 In 1977, George Engel conceptualised that by considering more than just a biomedical viewpoint, and include psychological and sociological factors into the transformation of a dysfunction, we may work deeper and with greater efficacy. 
Bio (physiological understanding of pathology)
Psycho (mental health, feelings, emotions, self narratives, stress tanks and coping mechanisms)
Social (work or environmental factors, family circumstances, friendship groups, living arrangements)
At the VOICE CARE CENTRE, we are equipped to manage and improve the biopsychosocial factors which make up your whole human condition.
What is a Chronic Condition?

Chronos
is Latin for time, which is where we get the name of a
chronic
condition. A chronic condition means; a condition that has manifested itself over a length of time (usually more than 6-8 weeks), rather than an acute incident like stepping on Lego or banging your shin.
Pain is really strange, and you as a human being are subject to not only biological factors, but psychological and sociological factors that make up wellness or disease. We are socially conditioned to thinking of the body like a machine. This expands to our laymen understanding of things like joint surgery. It's somewhat easier to perceive a knee arthroscopy or scraping excess tissue out of a joint rather than the dynamic and complex interplay of chemicals in a pharmacological intervention. The scalpel is far more comprehendible than a re-examination of our relationship with wellbeing.
Because of this social conditioning, we may feel the same about pain in regards to simplicity with a cause and effect. The reality may be far more complex than; "I bashed my knee and there is pain in my knee"… because sometimes chronic conditions can seemingly happen without any cause. Take for example, bending down to tie your shoelace one morning, and feeling your entire back seize up, something which unfortunately lasts for months. Was it the act of tying the shoelace, or was the bending down simply a tipping point for a stressful morning, where you were late to work, the kids were sick, and your partner having a difficult week?
How do you work with Me if I'm at a Chronic stage of my condition?

Social conditioning may lead us to believe that chronic pain should be rested and medicated, but the current base of the pain literature evidence suggests that "movement is medicine" rather than "rest is best".
We are looking to get you moving again, and moving in a way where you feel empowered to make decisions free from the fears of your condition.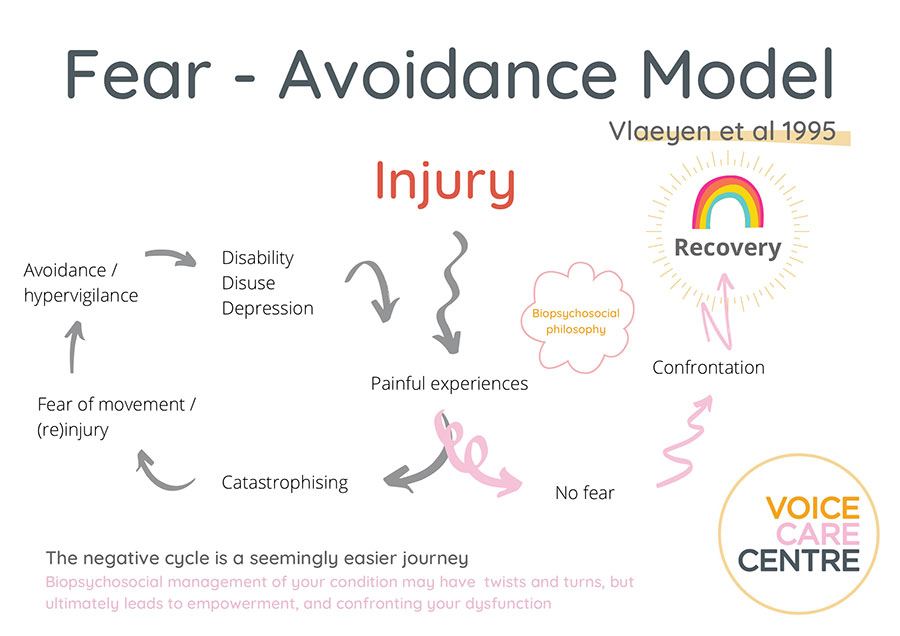 How do I know I'm ready to begin a treatment plan?

There are a few different considerations when undergoing a treatment plan.
Am I ready to invest the time and be open to change the current organisation of my body, voice and mind?
Can I financially commit to this right now?
Do I believe my body ready for this journey?
If you feel like you can fully commit to going on this journey, then you are ready. If you are not quite sure what the answers are to the questions above, why not bring your concerns to your initial assessment?
To read the full, published article on consent, and why it's never OK to inflict deliberate pain on someone:
click here
I had my first, Manual Therapy for Voice and Swallowing disorders, session with Stephen, and experienced a significant amount of ease, with my swallowing during and after the session. Stephen was great at explaining everything he was doing and made me feel, very comfortable under his care. I am feeling more confident that I can recover, post experiencing muscle weakness from an autoimmune disorder and look forward to continuing therapy with the team, at the Voice Care Centre.
I have had the pleasure of Lydia Flock being my voice therapist for muscle tension dysphonia. She treated me for several session and has performed miracles, when no-one else has been able to help me. The treatment is gentle and very person centred. It's amazing how such gentle touches can have a profound effect. Lydia is extremely warm and has a lovely sense of humour 🙂 Her demeanour and technique add to the the value and power of the sessions. I cannot promise miracles but I highly recommend her and the Voice Care Centre.
Wow! I have had such a warm, uplifting experience here at the Voice Car Centre. I have been looked after every step of the way and really treated as a person not a patient. The ethos of Stephen and his team truly shines through as they take time to understand your concerns questions and also you as an artist. They manage sessions so professionally and ensure they discuss your progress as a team, giving a real holistic approach to your healing process! I'm beyond grateful for the journey and knowledge I have gained. I feel empowered to use my voice confidently again and with more release and less tension I am already seeing a change! I'm excited for this next chapter and accessing my full potential for my career! Blessings to all the team, it's been a wonderful experience!
My wife really connected with Stephen and his "novel" approach to her ongoing 6 year voice loss. He is definitely not your average clinician, (for a start he actually listens to you) but he is highly skilled in his calm, ( sometimes funny!) non invasive, non medical voice therapy. Stephen has empowered my wife to have ownership of her voice and to connect to her emotions. Although she's not there yet , What a journey in just 3 sessions! Highly recommend Thank you Stephen from both of us.
Geoff & Karen Tennant
2021-09-07
The most beautiful souls. I've been on a rather long battle to essentially get my voice back. I'd done everything I thought possible but to no avail.. I thought I'd exhausted all options.. Step up - The Voice Care Centre. I hadn't felt listened to in a very long time, I hadn't felt acknowledged in a very long time.. Step up - The Voice Care Centre. Filled with the most incredible human beings, I felt safe, I felt appreciated and most important of all I felt a genuine care for my issue in everything we went through. This is a place for everyone. When the day comes, when I can finally sing again, I will have these guys to thank! Onwards x
I am really grateful for my time working with the team at the Voice Care Centre. Prior to my treatment I felt very discouraged about my voice after trying many different things with no results, and this was a sort of last resort for me to try to get to the root of my problem. After only a few sessions I was able to unlock something in my voice that was stopping me from making progress. I have felt the changes not only in my musical practice but also in my mindset and approach to life in general. I now feel like I am back on track and couldn't be happier. 100% recommended.
Angélina Munsch
2021-07-05
Stephen King has a way of connecting with his clients and their voices that puts you completely at ease. What I really appreciated was Stephen explaining the steps and communicating goals in my own words throughout the practice -not one second is wasted. You're in the hands of a true expert and yet you'll feel like you have ownership of your vocal therapy. Although I haven't had a session with anyone else on the team yet, I imagine they share the same practice and energy.
Thomasin Lockwood
2021-04-22
I have never been met with anything but the upmost professionalism from all staff at the Voice Care Centre. Each member of staff is highly trained and knowledgeable in each of their respective areas, and they always make you feel welcome and comfortable. I particularly want to mention Stephen, who has been an incredible teacher. He is always encouraging to his students, and is always striving to learn more. His love of learning and development clearly shines through in all he does with the Voice Care Centre.
From booking, to my actual appointment with Stephen, I was taken care of every step of the way! After just one session my voice feels incredible; I left the clinic feeling revitalised and energised. The Voice Care Centre is fantastic, Stephen and the team are 5* with a wealth of knowledge. Thank You!
oliver thomson
2021-03-25
If you have never booked with us before then you may wish to book your Initial Assessment. In the initial assessment, you will be triaged among our brilliant team of holistic and medical voice practitioners who will tailor a plan to get you to where you want to be.
The team members and associates at the Voice Care Centre are honoured to be members of these
regulatory bodies

and

associations